MM Bob Levels 2 BETA
Bob Levels for WonkyPix Manic Miner.
Retro fun for fans old and new.
Introduction and Downloads section
Introduction
The Goal
Guide Willy through 20 treacherous, moving and collapsing levels, avoiding a variety of hazards. Collect all the keys before the time runs out to progress to the next level. Overall these levels should be easier than the original ones. And as there are more keys to collect it's easier to get an extra life for every 10,000 points.

Controls
[Q] [E] [T] [U] [O] [Left-arrow] -- Left
[W] [R] [Y] [I] [P] [Right-arrow] -- Right
[Z] to [M] or [Space-bar] or [Up-arrow] -- Jump
[A] to [G] -- Pause
[H] to [L] -- Music on/off
[Esc] -- Restart game

Compatibility
If you a problem downloading or running this game, please contact Bob at the email address at the bottom of this page.
Downloads
Windows 7/8/10 - with support for OpenGL 2

Stored on MEGA.NZ
📂 MM Bob Levels 2 BETA

(Updated on: 2019-03-18, 221.0MB)



---
Game includes: WonkyPix (AGK) Manic Miner engine

Game includes: Graphics by Andy Noble

Level theme tunes by various artists
Licensed under Creative Commons: By Attribution 3.0
http://creativecommons.org/licenses/by/3.0/


For more Willy action please try MM Tweaked 2 BETA version
Screen-Shots, New Levels Created by Bob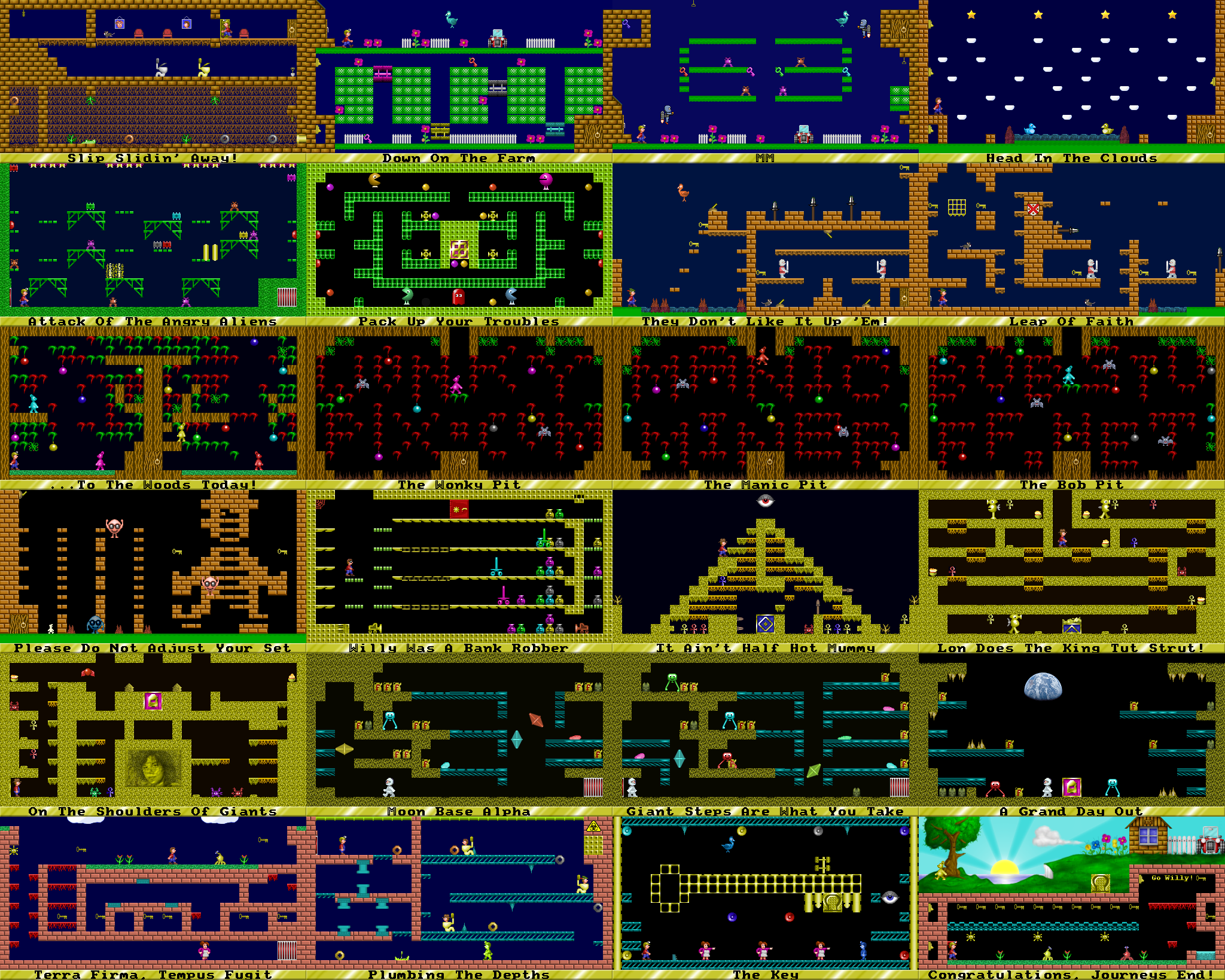 Our Hero
---

Miner Willy
Andy Noble's design on which other Willy's are based.

Hat-less Willy
Stylishly coiffured, and devil-may-care!

Bank Robber Willy
Never hurts nobody, but loves to take their money!

Robin Hood Willy
Takes from the rich, and keeps it!

"Fred" Willy
Tribute to excellent game by Indescomp and released by Quicksilva.

Spaceman Willy
Boldly going where few Willies have gone before!

Little Willy
Size isn't important, it's what you can do with him!

Pink/Red/Blue Bear Willy
Falling down a tree trunk will do that.

Ghost Willy
Ever wanted to play as a Pac-Man ghost?
Comments
Huge thanks to Jason Brooks for his kind help in implementing game engine suggestions.

Editing Tools: Bluefish Editor, Paint Shop Pro and Audacity. As the Wonkypix engine is so easy to edit, you only need simple software to create an almost infinite variety of levels.

The levels are designed to get progressively more difficult but none should be beyond the ability of the average player. If you find yourself struggling, take your time, pause the game, and look for an alternative route. Good luck!